The Hukilike No Maui Coalition gave a presentation at the February 27th meeting of the Alliance for Community Associations. A report on the meeting is available here. Text of the article is pasted below.
KCA back at Alliance meeting last evening with strong presence
A meeting about agriculture? What's this have to do with South Maui? A LOT, especially when coupled with affordable housing and environmental conservation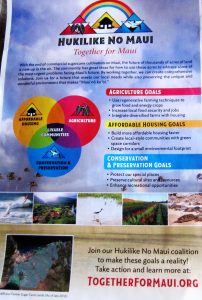 #sierraclub, #kihei  2/28/17 Four KCA volunteers supported our organization's efforts on Monday evening by trekking to Spreckelsville for the monthly Alliance of Maui Community Associations meeting. 
Once again we exhibited dedication "to protecting, sustaining and enhancing our 'aina, kai and 'ohana." by listening to presentations and discussion of the future of Agriculture (AG) on Maui. At times there is a misconception that all of South Maui is urban; that neglects a variety of aspects of AG. Just look at all of the now barren cane fields along much of the length of N. Kihei Rd; even more all of the open land mauka of both the Pi'ilani and both sides of the Mokulele Highway to the animal shelter. All the Monsanto land. All in our region.  And we all EAT!
The meeting focused on "Hukilike No Maui,"  a coalition campaign proposed by the Sierra Club, to incorporate Agricultural  Goals, Affordable Housing Goals and Conservation & Preservation Goals in looking to future uses of the former cane land.   SEE TogetherForMaui.org for more on this project. One of the first steps is to understand just what are the housing needs and preferences of Maui's residents. You can help create that understanding by going to the TogetherForMaui.org Web site and taking the three minute housing survey. Get your friends and kids needing housing to also fill out the survey!

We heard from a variety of involved guys, including
Bill Greenleaf, HI Farmer's Union (HFFU)– Haleakala Chapter
Ken Yamamura, Agricultural Specialist, County Office of Economic Development
Gerry Ross, Kula Farmer at Kupa'a Farms
Adriane Raff-Corwin, Sierra Club Maui Group Coordinator
Melinda Carroll,  Youth Education Coordinator, Malamalama Maui, the UHMC Culinary School
After introductions, Adriane explained where they hoped to go with Hukilike No Maui, and comments and questions were offered by the other four participants, Association members and other guests .
The date of the March Alliance meeting has not yet been determined.